Why vacation in Parga...
Sights: Opposite to the beach you can see the islet and the high bare rocks Kremyda and Skorda.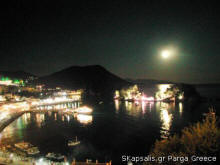 You can visit the medieval fortress that stands on a rise at the west side of the town, whereas from the rises surrounding Parga you can enjoy the view of the town and of the indented beaches: Krioneri, Pisso Krioneri and Valtos. If you go to a boat-trip you will get to know the bewitching beauty and the peacefulness of the sea caves at Lichnos bay, Sarakiniko beach and Agios Sostis beach. Finally, you can visit the fortresses of Parga and Anthousa village.
Infrastructures: Parga has a health centre, banks (National Bank of Greece, Commercial Bank of Greece, Agricultural Bank of Greece), port terminal, fire station, police station, two dental surgeries, two pharmacies, three consulting rooms, a paediatrician etc. There are also dozens of shops where you can buy whatever you wish; travel agencies for your excursions to the nearby islands of Corfu, Paxi and Lefkada, as well as for you car and craft rentals; and what's more, cafeterias, snack bars and restaurants with a big variety of dishes at reasonable prices. The most important thing is that Parga is situated in the centre of Epirus' coastline and from here you can visit the beaches lying from Lefkada to Prevesa and up to Igoumenitsa and Sagiada.
Hiking: Parga is the hiker's paradise. The Venetian olive grove, the surrounding hills and coasts are ideal for the hikers. It's worth referring to the book of the British lance Chilton where are mentioned some walks in Parga under the title "Walks in Parga". The Municipality of Parga has indicated only one walk: from Parga to Valtos Beach and from there to the old fortress of Ali Pasha at Anthousa village, but in the book we discovered really wonderful walks. The book is available in the bookstores of Parga.
Beaches:No comment about Parga's beaches. They are just magnificent, good for all tastes.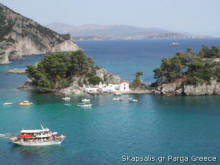 Valtos beach: A huge beach, good for everybody: families, couples, individuals etc. It is situated next to the town of Parga and you can reach it by boat (we recommend it), on foot or by car. Note that you can enjoy all kinds of water sports here. We recommend a walk in the morning or at nightfall.
Sarakiniko beach: At 12 km from Parga after passing the village of Agia. You can reach it by boat, from the pier of Parga, or by car, from Anthousa village, but it's a difficult drive, good only for those who love driving on earth roads. We recommend it only to the lovers of potholes and jeeps. The sunset is magnificent here. The beach is good for everybody: families, couples etc. It is also possible to practise water sports: water bike and canoe. The waters are good and only a small part of the beach is covered with pebbles. There is a car park so you don't have to worry about it. It's worth visiting the water source at «Baboulo». There are restaurants and cafeterias serving quite good food.
Agios Sostis beach: At 1 km to the south of Sarakiniko beach. It's an isolated beach, so forget luxuries, such as restaurants, cafeterias, water sports, drinking water, people etc. Here you will discover what virgin nature means. If you own a jeep and you like driving at narrow and rough earth roads just take the map and a compass, go to Anthousa village and… good luck. If you meet anyone: a person, an animal (goat, donkey), any living creature, ask for directions, otherwise you will get lost!!! On the other way, if you want to be Indiana Jones take the jeep and continue to the south of Sarakiniko beach. However, if you don't want to do "marzies", that is to say follies in the local dialect, just take the boat from the pier and in 20 minutes you will be arriving at your destination. Joking apart, it's a beautiful beach and is worthwhile visiting it, but only if you are well fitted out.up
Lichnos beach: You will come across it before arriving to Parga. It's a beautiful beach provided with all the good things of civilization: water sports, cafeterias, restaurants etc. You can reach it by boat or by car. The waters are great and, of course, the beach is sandy for its most part and good for everybody.
Agios Giannakis beach: At 6 km from Parga. It's a beautiful beach and one of the beaches of the area with the clearest waters. Water sports are available and the beach is good for everybody.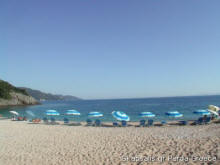 Mprosta and Piso Krioneri: Are the central beaches of the town of Parga.
In a few words: Before entering the built-up area of Agia Kiriaki at 5 km from Parga, a sloping road with turns on your left will lead you to Agios Giannakis, a small but beautiful beach with clear waters. When passing the built-up area of Agia Kyriaki and at 4 km from Parga on your left you will come across Lichnos beach. In the town and at the coastal road there are the beaches of Krioneri and Pisso Krioneri. At two kilometres to the NW of the town an asphalted road will lead you to the beautiful beach of Valtos. At twelve kilometres to the NW is situated Sarakiniko beach. Finally, for those who are looking for something absolutely different there are beaches truly unspoiled, such as Agios Sostis, Berenitiko, Starna Verna and Prata Mali (we haven't given you any information about the last ones, but the roads leading to them are even more difficult that those leading to Agios Sostis).
Apart from these there are many more beaches out of the way good for those who love adventure and, since by asking you can find everything, just ask for directions.